We are thrilled to announce a major enhancement to your forum experience: Native Language Support! We have been listening to your valuable feedback, and we are committed to making our forum a more inclusive and accessible space for everyone. To achieve this, we are rolling out native language support to foster a global community of like-minded individuals.

What is Native Language Support?
With Native Language Support, we are making it easier for members to interact and engage in discussions in their preferred languages. As of now, you can participate in the Forum in English, Russian, or Hindi. In the future, we may add support for other languages as our community expands.

How Does It Work?
Simply head over to the sidebar menu.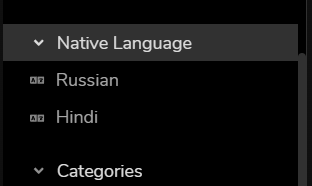 Select your preferred language from the list of supported languages. Join the Group.

Voila! You can now browse, post, and interact in your chosen language.
Note: New members will be automatically added to their chosen language.

Connect Globally, Discuss Locally
This exciting feature allows you to connect with like-minded individuals from all around the world while ensuring language barriers won't get in your way. Discuss your passions, share your knowledge, and explore diverse perspectives with ease.
Our goal is to create a more welcoming and inclusive environment, where every member can contribute, learn, and enjoy the Forum experience in their mother tongue.

Join the Multilingual Conversation Today!
We invite you to start using Native Language Support today and help us make Maitreya Field Forum a global hub for Spiritual discussions in multiple languages. Feel free to explore our various language-specific sections and share your thoughts on topics that matter to you.

We Need Moderators for Russian and Hindi!
To make our language-specific sections even more engaging, we are currently seeking dedicated moderators for our Russian and Hindi communities. If you are passionate about Maitreya Field and fluent in Russian or Hindi, this is a fantastic opportunity to help shape and nurture these language-specific discussions.
Moderators play a crucial role in maintaining the forum's quality, assisting members, and ensuring a positive environment. If you are interested in becoming a moderator, please reach out to us at [maitreya@maitreyafields.com] with your details and a brief introduction.
Thank you for being a part of the Maitreya Field community, and let's make this forum more diverse and vibrant than ever before!
Happy Multilingual Conversations!